More than a Credit Union
Galaxy, a community credit union, was established in 1940 by 12 Joy Mining employees. We honor these men with the 12 stars in our logo. Our original charter under Joy Federal Credit Union was signed on 10/14/1940. We changed our name to Galaxy Federal Credit union in 1993 and moved to our current location in 1995.
We became a community credit union in 2002. Our services are available to anyone that lives, works, volunteers, worships, or attends school in Venango county and all of their immediate family members.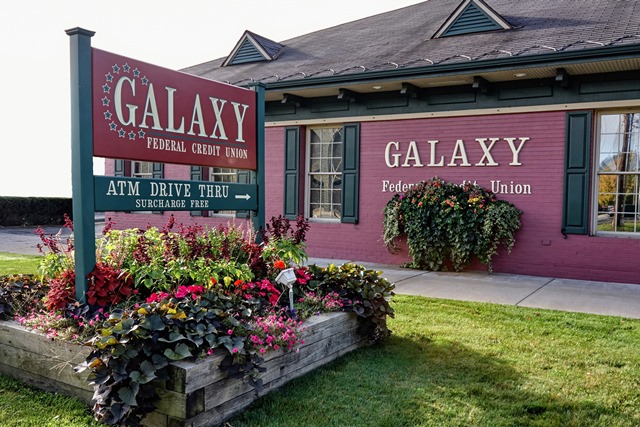 Banking with us is different.
We are owned by our members and follow the "people helping people®" philosophy. Because we are a not for profit financial institution, we are able to provide banking services at fair and reasonable costs, with both dividend and loan rates being very competitive.
Our Board of Directors is made up of seven credit union members who volunteer their time and talent to bring our members the best in financial services. The directors are elected at our annual meeting (held the first Thursday in May) by our members. Overall, Galaxy is run by 13 volunteers who serve on the Board and various committees. We have 11 employees, nine full-time and two part-time.
At the end of 1940, our total membership was 55 members with assets of $695 and loans of $512. Today, we have almost 5,000 members, our assets are at $53 million and we have outstanding loans of $21 million. We have granted loans of over $227 million dollars since 1940!
We welcome you to stop in and visit our office for more information or to open your account to see why Galaxy truly is "Where YOU Belong".
Mission Statement
Galaxy Federal Credit Union will provide the best financial services and products at competitive rates in a safe, professional and friendly atmosphere to benefit our members in their current and future financial needs.